Assured Comfort HVAC
Heating Repair Services
Is your heating system not working like it used to? It might need repair or servicing to have it functioning at full capacity.
Assured Comfort offers professional heating repair services in Douglasville, Georgia.
Your heating system can be repaired by our competent technicians at affordable prices. You can also call us for installation or maintenance services in Douglasville.
Our technicians offer heating repairs for all types of heating methods. Whether your furnace is a new or old method, we could give the best solutions for repairs and upkeep.
Our heating repair providers are timely, efficient and extremely affordable.
If you live in Douglasville, GA, give us a call today at 770-872-4186!
Should you need more detail about understanding your furnace issues or to learn more about just how much it may cost, continue reading!
On the rest of the page you can check out the following:
Six Signs Your Furnace Needs Repairs
Does My Furnace Need Repairs or a Full Replacement?
The Average Cost of Furnace Repairs and Service Costs
When Should You Look to Replace your Unit?
Schedule Service Online Now!
Six Signs Your Furnace Needs Repairs
An obvious way to understand you need furnace repairs is it simply stops working.
There are also more subtle signs of problems.
Here are the top six warning signals:
If you turn on the thermostat, then it will not turn on the furnace.

Your utility bills are greater than usual.
The furnace is very loud and loud while it's running.

Your machine is more than 10 years old.

Your bunny light is yellow rather than blue.

Your furnace blows cold air.
If the furnace is rather than working correctly, contact us to schedule a heating repair.
Our technicians are licensed and insured and can fix any make and version of your heating system.
It's important to be aware that a heating repair and a heating tune-up aren't the same things.
Repairs are services which are necessary whenever your furnace isn't working to revive system functionality.
A tune-up is the routinely scheduled services, inspections and component replacements that is highly recommended by all manufacturers to prevent breakdowns and costly repairs.
With routine maintenance, your furnace can continue to operate and can help you avoid costly emergency repairs down the road.
Furnace Repair vs. Replacement
If your heating system in your Douglasville home is not operating properly, should you call the local repair service or splurge on a new furnace?
This is not always an easy choice for homeowners, as both choices present benefits and their consequences.
The tips below can help you choose whether to fix or replace your furnace.
When to Repair Your Furnace
In case one or more of these conditions apply to you, it's generally in your best interest to Fix your heating system instead of replacing it:
You are still within your warranty period. If your heating system is still under manufacturer's guarantee, the manufacturer should cover the majority (or even all) of their repair expenses.

You've had your system for less than 15 years. As a rule of thumb, if your furnace is less than 15 years old, it is still considered "repairable."

A transfer is on your future. If you're thinking about moving to a different house over the next couple years, you should repair your furnace if at all possible and try to make it last till you settle into your new home.
Average Furnace Repair Costs
To get a furnace fix is about $ 300, the price homeowners pay. Many homeowners pay between $ 160 and $ 400 to have their paychecks repaired, to give you more of a range.
What exactly costs factor into the overall total of a furnace repair?
Furnace Service Cost Factors
There are lots of variables that impact your total furnace repair and support cost.
Whether you purchased an extended coverage arrangement with the installation company or A furnace that's still under a warranty may have many of its parts covered, but you may have to pay the cost of a service visit and for labor.
The cost will depend on the root cause of the issue when a furnace is no longer under a guarantee or warranty.
If a furnace is under warranty, the price will depend on what the problem is.
For instance, a cracked heat exchanger or a problem with malfunction, burner, thermocouple or the motor can cost more to repair components.
Also, the size of the unit, the furnace's age and condition also factor to the repair price.
Of course, as time goes one, you have to consider the cost of repairs.
If your furnace is more than 15 years old, you need to consider replacing your furnace or if your repair bill will probably be pushed over $800, it may be time to consider buying a new unit.
Here are a few additional factors to consider in regards to replacing your present furnace using a fresh high-efficiency heating system.
When to Replace a Furnace
You should replace your existing system with a more energy-efficient one, if you're facing any of the following circumstances:
-Your equipment needs regular repairs.
HVAC experts advocate following the 50 percent rule when deciding whether to fix or replace a furnace. This rule states that if the cost of repair is more than half the cost of a system, you need to replace your model.
-Your home is undergoing irregular temperatures.
Think about replacing your heating system -- one area may be too hot and yet another is chilly -- if you become aware of temperatures in various areas of your house it may be time for a replacement.
-Your heating system is noisy.
If the HVAC system of your home is constantly cycling on-and-off and putting itself into overdrive to meet with the requirements of the thermostat, this can be an indicator that there is a replacement needed.
Get Your Furnace Problem Taken Care of Today
If you live in the Douglasville area and need your heating system repaired or replaced, the specialists at Assured Comfort are prepared to assist.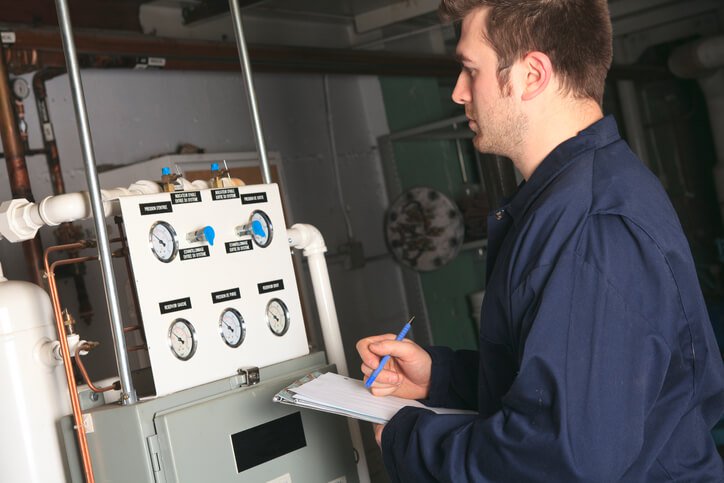 To schedule a service call or to find out more about the residential and commercial HVAC services we supply, please contact us or schedule an appointment.
Our technicians will look to make sure your home's furnace is installed to the specifications of the manufacturer and will offer specifics on what's currently going on with your unit.
Call one of our trusted Heating Repair technicians now to schedule an appointment at 770-872-4168 or click on the button below.